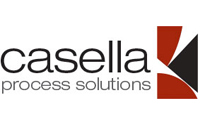 ---
Connect with an Accuflow Systems Representative to configure a custom cart solution!
---
Casella – Stainless Steel Sanitary Fittings
---
Casella Process Solutions (formerly Casella Sales and Marketing) specializes in providing technically sophisticated components and equipment for single-use/disposable and traditional stainless steel process applications. Casella's longstanding relationships with bio-pharm manufacturers and OEMs have given us a depth of understanding of high purity and sterile manufacturing environments.
Our success has been built entirely on the quality of our service and the quality of the products we have selected to represent. Our innovative solutions include sanitary valves, mag drive mixers, heat exchangers, filter housings, powder handling and microfiltration systems.
We maintain an extensive inventory of stainless steel process flow components. With our custom fabrication division, we are able to customize products to solve unique process challenges. We provide 100% quality inspection on every product we ship.
In 2014, we added a Mid-Atlantic sales office to broaden our sales and service area.
Our product line continues to evolve with expanded opportunities from our manufacturing partners and in response to our customers, who look to us for innovative solutions to make their systems deliver peak productivity and uncompromised quality.