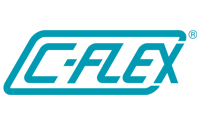 Connect with an Accuflow Systems Representative to configure a custom cart solution!
---
---
C-Flex® Sealable and Weldable Tubing
---
For over 30 years, C-Flex® has been the thermoplastic elastomer tubing most widely used and validated by the world's leading pharmaceutical and biopharmaceutical companies. Each coil of C-Flex® tubing is extruded to precise ID and wall dimensions.
C-Flex® tubing is part of a family of TPE tubing off ring the widest range of formulations and sizes in the industry including C-Flex® 082 and 374 translucent tubing for fluid flow visibility, and C-Flex® 072 opaque for peristaltic pump and light sensitivity applications. For applications demanding higher pressure, C-Flex® Braided combines a polyester fiber reinforcement with C-Flex® 082 material. C-Flex® tubing has a secure global supply chain with redundant manufacturing sites in the United States and Europe with validated manufacturing processes.
Features/Benefits
Sealable and weldable either pre- or post sterilization.
Sterilizable by gamma irradiation and autoclave
Complies with USP Class VI and ISO standards
Full Validation Packaged available for all C-Flex commercial formulations.
Moldable, bondable and formable for single use assemblies and overmolds
Non-pyrogenic, non-cytotoxic, non-hemolytic
Remains flexible from -45ºC to 135ºC (-50ºF to 275ºF)
Significantly less permeable than silicone
Smooth inner bore for superior fluid flow
Safe disposable through incineration
All formulas are Animal Derived Component Free (ADCF)
C-Flex 072 has excellent pump life application
Applications
Aseptic sealing disconnections
Aseptic welding connections
Ideal for use in single-use assemblies
Buffer and Media preparation
Cell culture operations
Purification Operations
Diagnostics Products
Biopharma Manufacturing
Single-use fluid transfer sets
Tubing and bags manifold
Laboratory R&D
High-purity water system