Connect with an Accuflow Systems Representative to configure a custom cart solution!
Single Use Pressure Sensors
The pressure sensors can be integrated for pressure measurement and control with either a PressureMAT™ System (monitor/transmitter) or a PendoTECH Process Control System, depending on the number of sensors and process requirements. The data collected by these systems can be output to a PC or another data monitoring device. They also can be integrated into other pre-qualified 3rd party pumps & monitors. The pressure sensors are very accurate in the pressure ranges typically used with flexible tubing and are qualified for use to 75 psi.
Process Scale Pressure Sensors
Applications include multi-stage depth filtration, TFF/crossflow filtration, and bioreactor pressure monitoring and many more
Available for use with tubing from 1/8 inch to 1 inch inner diameter (for luer size see below) or a sanitary flange
Unobstructed flow path & no dead legs provides dramatically reduced hold-up volume versus stainless steel transducers or gauges
Qualified for use in the range from -7 to 75 psi
Compatible with gamma irradiation
All materials meet USP Class VI
Integral 12 inch cable connects to reusable monitor/ transmitter/alarm cable via molded connector
Each sensor is tested for quality and accuracy during manufacturing and rejected if out of specification (no calibration required)
Manufactured in a clean room in an FDA registered, ISO 13485 facility
May be repeatedly cleaned and reused
Low cost
Sensors may be autoclaved one time
Polycarbonate material or caustic resistant polysulfone (please review Application Note- Autoclave of Single Use Pressure Sensors)
Certificate of quality included with lot certification; individual NIST Calibration Certificates are optional
May be non-invasively tested in-place with the PressureCHECKER™ device
Validation guide available on request
Hose Barb Design Features
The design features no mold parting-line where the tubing is secured, which can be a source of leaks. The single barb shaft provides space for the hose to relax behind the barb, causing the tie-wrap to work like a drawstring. A tie-wrap placed over the antirotation device (designed by Eldon James Corp.) will lock the tubing, preventing it from becoming loose by a twisting motion. If a more secure fitting than a tie-wrap is required for higher pressure, either a BarbLock® or Oetiker Clamp can be used, and they both give a very secure 360° radial compression seal.
PendoTECH Pressure Sensors – for Smaller Scale Processes
The luer sensors are offered in polycarbonate and polysulfone and have male/female luer lock inlet/outlet ports and come with a cap on the female luer port for dead-end applications. With the universal luer fitting, they can be adapted to processes in different manners. A couple of examples are they can be used in-line at low flow rates (1/16 or 1/8 inch tubing) or on a 1/4 or 3/8 inch barb fitting with luer port. The polycarbonate version is sterile for aseptic connection.
PendoTECH Pressure Sensor Data* 100 Sensors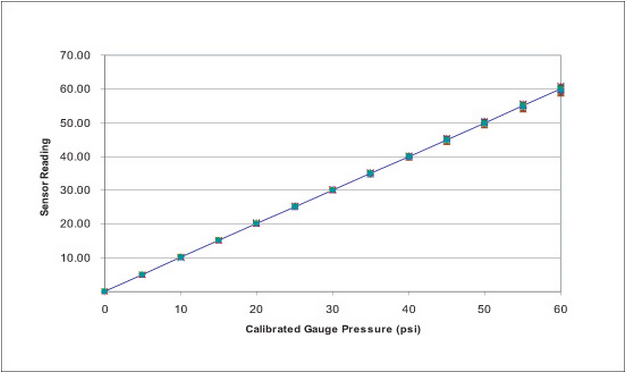 * Data from 100 random sensors manufactured with the PendoTECH High Accuracy Pressure chips (MEMS-HAP chips) and measured with the PendoTECH Process Control System.