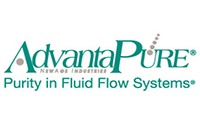 Connect with an Accuflow Systems Representative to configure a custom cart solution!
Purity in Fluid Flow Systems®
---
AdvantaPURE high purity tubing and hose products are designed for the biopharm and pharmaceutical industries as well as food, beverage, laboratory and chemical transfer applications. They include AdvantaSil® family of platinum-cured silicone products, AdvantaFlex® biopharm grade TPE tubing and other offerings of process hoses.
Offering high purity silicone tubing and hose products AdvantaPure is quickly becoming recognized by industry leaders as the superior choice for Single-Use processes worldwide.
APSH-DB: Double-Braided Silicone Hose
---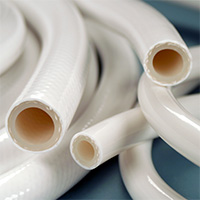 Offered as an alternative to mandrel-built wrapped silicone hose, AdvantaSil® APSH-DB provides several advantages over wrapped hose and includes more flexibility. APSH-DB, an extruded product, is available in lengths up to 50 feet.
APSW: 4-Ply, Wire-Reinforced, Mandrel-Wrapped, Silicone Suction Hose
---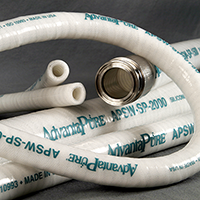 AdvantaSil® APSW includes a liner which is slipped onto a mandrel and wrapped with polyester mesh fabric, 302/304 stainless steel reinforcing wire and additional silicone. It is then cured into a homogeneous hose, enhancing its pressure and vacuum capabilities.
APSH: Braid Reinforced Silicone Hose
---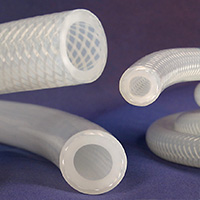 AdvantaSil® APSH is a low volatile grade, platinum-cured silicone hose which is clean room produced for critical pharmaceutical, biopharm, cosmetic, and food applications. Polyester yarn braiding inside the wall enhances the pressure capabilities.